2017-04-19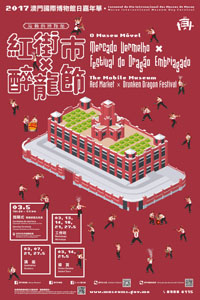 Date: 03/05/2017, Wednesday
Venue: Red Market and surrounding streets
Time: 11am ~ 5pm
The Mobile Museum - Red Market x Drunken Dragon Festival
The Red Market Building was completed in June 1936. Covering an area of 1450m2, it was located at the intersection of Avenida Horta e Costa and Avenida Almirante Lacerda. The market was designed by Júlio Alberto Basto and originally named Almirante Lacerda Municipal Market. However, owing to the red bricks used on its exterior, the local residents later called it the "Red Market". Everyday the stores in the market are piled up with fresh meat, seafood, vegetables, groceries, dried food and even flowers and cooked food. The cries of the vendors and their surrounding crowds of customers create a vibrant atmosphere in the market, making it a dynamic city.
2017-01-19
Objective: This year the theme of the International Museum Day Carnival is "The Mobile Museum - Red Market • Drunken Dragon Festival". It emphasizes the service objectives of museums merging into the community and expanding their public space. It also encourages painters to record the beauty of Macao with their drawing pens.
Qualificações: Alunos de estabelecimentos do ensino e residentes de Macau podem participar individualmente ou num dos seguintes grupos:
Children group: Age 6 ~ 12, born between 01/01/2005 ~ 31/12/2011
Youth group: Age 13 ~ 18, born between 01/01/1999 ~ 31/12/2004
Deadline for submission: 5:30pm on 09/04/2017 (Sunday).
The Drunken Dragon Festival