What is ICOM (Source: ICOM)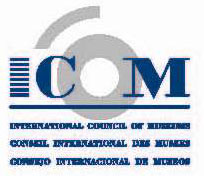 Created in 1946, ICOM (International Council of Museums) is the only international organisation representing museums and museum professionals on a global level.
ICOM is an international non-governmental organisation maintaining formal relations with UNESCO. Within the United Nations, ICOM has a consultative status with the Economic and Social Council.
ICOM is:
A diplomatic forum made up of representatives from 137 countries and territories.
Standards of excellence for museums including ethics (ICOM Code of Ethics for Museums).
A unique international network of more than 30,000 museum professionals around the world.
A think-tank composed of 31 International Committees which represent museums' specialties.
Missions of international public service notably in the fight against illicit traffic of cultural property and emergency programmes in case of natural disasters or armed conflicts.