2014-03-13
Seminars of International Museum Day, Macao 2014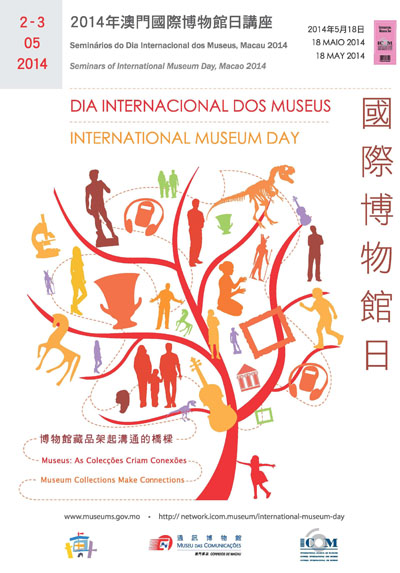 "Museums Collections Make Connections" is the theme of the International Museum Day 2014, given by the International Council of Museums (ICOM). Communications Museums will organize the "Seminars of International Museum Day 2014" on May 2 and 3 at the auditorium of the museum as the prelude to celebrate the International Museum Day of the year.
In addition to the first seminar for museum professionals, the second seminar will be free of charge for the general public, educators and secondary students. Registration will be accepted from now till April 12 through online registration on Communications Museum website (http://macao.communications.museum) and Museums of Macao website (www.museums.gov.mo).
Museum professionals and scholars from Hong Kong and Taiwan are invited to share their views on hot topics of museums with the audience. In the first seminar for museum professionals on May 2, Ms. SIT Karen, Chief Curator of Hong Kong Science Museum and Ms. PANG Maggie, Chief Manager of File & Cultural Exchange, LSCD, Hong Kong will talk about "Old Topic, New Experience" and "Find a Way out of Conventional Marketing Approaches" respectively.
For the open seminar held in the afternoon of May 3, Prof. CHOU Kung-shin, Ph.D., Chair Professor, Graduate Institute of Museum Studies of Fu Jen Catholic University will talk about "Museum and Education" and, Mr. CHAN Shing Wai, Head of Conservation Office, LCSD, Hong Kong, will talk about "Museum & Conservation - The Behind-the-Scene Vision".