Seminars of International Museum Day, Macao 2012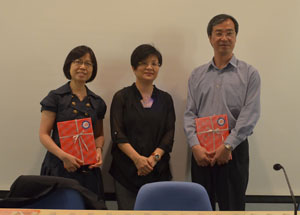 The seminars of International Museum Day organized by the Communications Museum have been completed! On May 4, Ms. Susanna Sio, Chief Curator of the Hong Kong Museum of History, and Mr. Szeto Yuen Kit, Curator of the Hong Kong Museum of Art, have talked about "Hong Kong Museum of History under new thoughts" and "Beyond exhibition - The curatorial concept of modern museum" respectively. Through the case studies of organizing large exhibitions such as terra-cotta warriors, the "Along the River During the Qingming Festival" and paintings of Mr. Wu Guanzhong, the speakers have shared their views on the selection of exhibits, setting of exhibition galleries and difficulties experienced in organizing exhibitions in Hong Kong. The museum people of Macao have greatly enjoyed the seminars which induce them to seriously think about the importance of museums in knowledge communication and society education.
On May 5, Prof. Li Wen Ru, Deputy Director of The Palace Museum in Beijing, has talked about "Development trend of museums in China"; Prof. Sun Wei Hsin, Director General of the National Museum of Natural Science in Taichung, has talked about "Life is short, why don't we explore the fun of knowledge? - The role of museums in lifetime education for the general public"; and Prof. Vai Mang I, Department Head of Electrical and Computer Engineering of the Faculty of Science and Technology at the University of Macau, has talked about "A life of science popularization - How to develop interest in science?". They have used lively and interesting ways to share with museum colleagues and teachers about how museums actively influence the society's development in a changing world. Museums not only affect visitors' thinking about the future, but they also play a very important role in informal education to the public.

International Museum Day Fair, 2012 Macao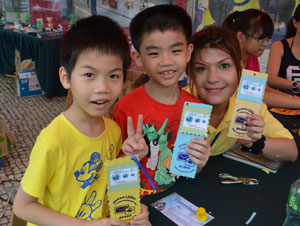 On May 6, the Communications Museum organized game booths and workshops at the carnival in Tap Seac Square. Both adults and children had lots of fun playing the interactive games "Flying to My Favorite Stamps" and "Electric Generator". They were also able to make their own unique objects in the workshops of "Stamp Bookmark" and "LED's Changing Looks - Musical Flowers" that were held in rotation throughout the day. Fun learning is not only to found at the museum, but also at the carnival! The Macau Post also issued a commemorative postcard with circulation from May 4 to 18. During the May 6 carnival, there was free distribution of commemorative postcards and provision of commemorative cancellation service for stamp collectors at the temporary postal counter.